CF100 CF400 - Vibratory Bowl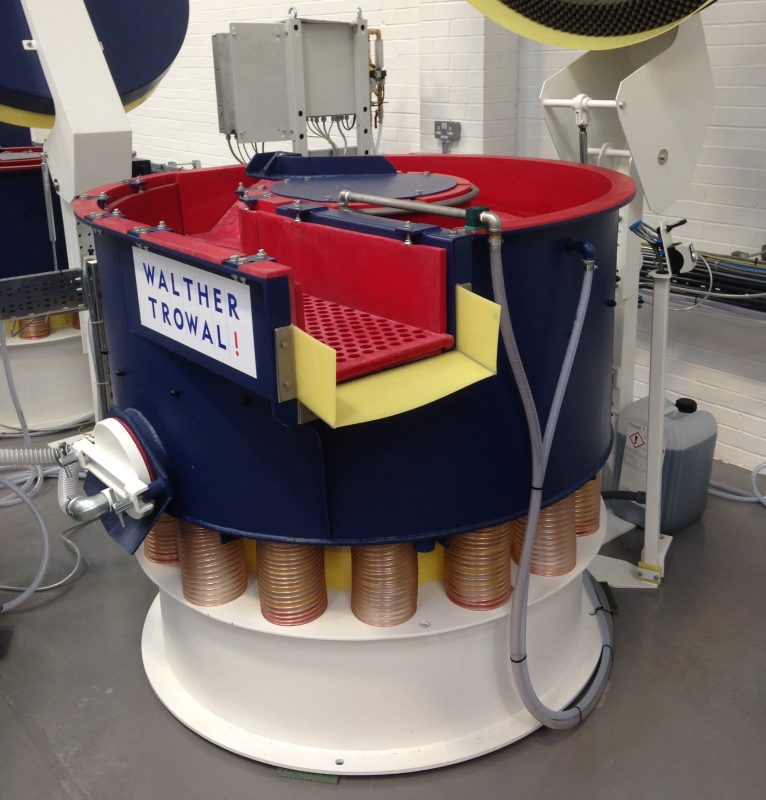 With our CF100/CF400 series vibratory bowl, Onesite Laser are positioned to be your supplier of perfectly rumbled parts up to 240 mm square. Our CF100 is our latest investment to handle smaller batch run jobs for prototypes and development. Our CF400 has a larger 400Lt bowl so we are ready to handle your volume processing.
The CF series rumbler has a gradual rising floor and a "fall" point, like a small weir on a river. This small gently controlled fall allows for the parts to remain separated throughout the rumbling process. It is essential when you are processing small flat parts to keep the parts separated, otherwise you end up with an unsightly tarnished finish. Constant contact between the media and the parts is what creates the superior appearance of the component. Quality and repeatability are paramount when it comes to any secondary finish, the CF400 permits Onesite Laser to have total confidence in the process, so that the customer receives quality above all expectations.
TT45 - (Turbotron) Centrifugal Disc Finishing
Compared to vibrators, Turbotron centrifugal disc finishing machines offer up to 10 times higher grinding performance. Turbotron machines are suitable for the removal of strong burrs and for the edge radiusing of small and medium size parts. Our TT45 machine is perfect for fine grinding and even polishing offering a finish that would not normally be expected from a rumbled part. The parts and media are centrifugally spun against the wall of the drum in an upwards rolling motion. This amplifies both the power of the abrasion process and reduces the processing time. Rounding, flattening and polishing can now be offered from one machine.
Onesite Laser are not looking to offer a separate rumbling service. Our circa £100K investment is to improve the quality of service to our loyal customers. We are a sub-contract service provider for laser cut and formed parts. We can now offer the quality of finish that is beyond expectations.
TROWAL CENTRIFUGAL FILTERS - Model Range ZM
To help with our impact on the environment, Onesite Laser have added a closed process centrifugal water treatment system.
After vibratory finishing the effluent (dirty process water) contains abrasive and metal fines, frequently also oil and metal in solution. For this reason, the effluent must be cleaned before going to drain or being recycled back to the finishing process.
Abrasive and metal fines as well as trapped oil are separated from the process water by way of centrifugal force and can be removed as semi dry sludge. The cleaned process water can be re-used and is pumped back to the finishing machine. The recycling of the process water from the finishing process does not only reduce the consumption of water (up to 98 %), but it also reduces the usage of compound (up to 90%). In addition, it reduces the cost of waste disposal.
Centrifugal Recycling With A Basket Centrifuge
Rumbling Examples